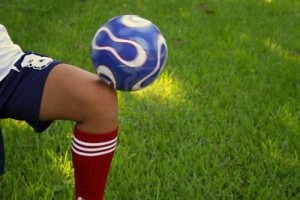 Soccer is the most commonly played sport in the world.  Inherent to this sport is the higher risk of injury to the anterior cruciate ligament (ACL) relative to other sports.
Not surprisingly, ACL injuries cause the most time lost from competition.
Most ACL tears in soccer players are non-contact in nature.  Common playing situations precluding a non-contact ACL injury include:
Change of direction or cutting manuevers combined with deceleration

Landing from a jump in or near full knee extension
Pivoting with knee near full extension and a planted foot
Female soccer players are three times more likely to suffer a non-contact ACL tear compared with male players.
But why?
Commonly purported intrinsic risk factors for female soccer players include:
Decreased relative hamstring strength and recruitment (compared to quadriceps)

Muscular fatigue
Decreased core strength and proprioception
Low trunk, hip, and knee flexion angles when performing sport tasks
In order to lower the risk of ACL injury in these female athletes, coaches should incorporate neuromuscular and proprioceptive training programs.  This means female soccer players should be incorporating a dynamic warm-up that incorporates balance as well as change of direction to properly prepare the ankles, knees, and hips for the upcoming task at hand – playing soccer.
When participating in a strength and conditioning program, female athletes need to make sure they have a proper balance between hip dominant and knee dominant movements so that hamstring strength is developed along with quadriceps strength.  Overemphasis on knee dominant exercises can cause the quadriceps to become stronger (over time) than the hamstrings and raise the risk of injury.  Furthermore, girls need to be coached on how to jump and land with proper form.  Working on the landing componennt is especially important, as it teaches the athlete to decelerate properly.
When soccer players participate in these types of training programs, they can decrease the risk of non-contact ACL injuries.  Here are some statistics from one study comparing soccer playesr who participated in this type of training program (intervention group) to soccer players who did not perform this type of training (control group):
Non-contact ACL injuries among intervention athletes was 3.3 times less than in control athletes

No ACL injuries occurred among intervention athletes during practice compared to 6 among control athletes
Game-related non-contact ACL injury rates in intervention athletes were reduced by more than half
Those are some pretty powerful statistics and make a great case for the importance of  female soccer players to get involved in a strength and conditioning program.
——
References:
Gilchrist J, Mandelbaum BR, Melancon H, Ryan GW, Silvers HJ, Griffin LY, Watanabe DS, Dick RW, Dvorak J.  A randomized controlled trial to prevent noncontact anterior cruciate ligament injury in female collegiate soccer players.  Am J Sports Med. 2008 Aug;36(8):1476-83.
Mandelbaum, B.R., Silvers, H. J., Wantanabee, D.S., et al. (2005). Effectiveness of a neuromuscular and proprioceptive training program in preventing anterior cruciate ligament injuries in female athletes: 2-year follow-up. Am J Sports Med, 33, 1003-10.