Athlete Spotlight: 

Colin Adams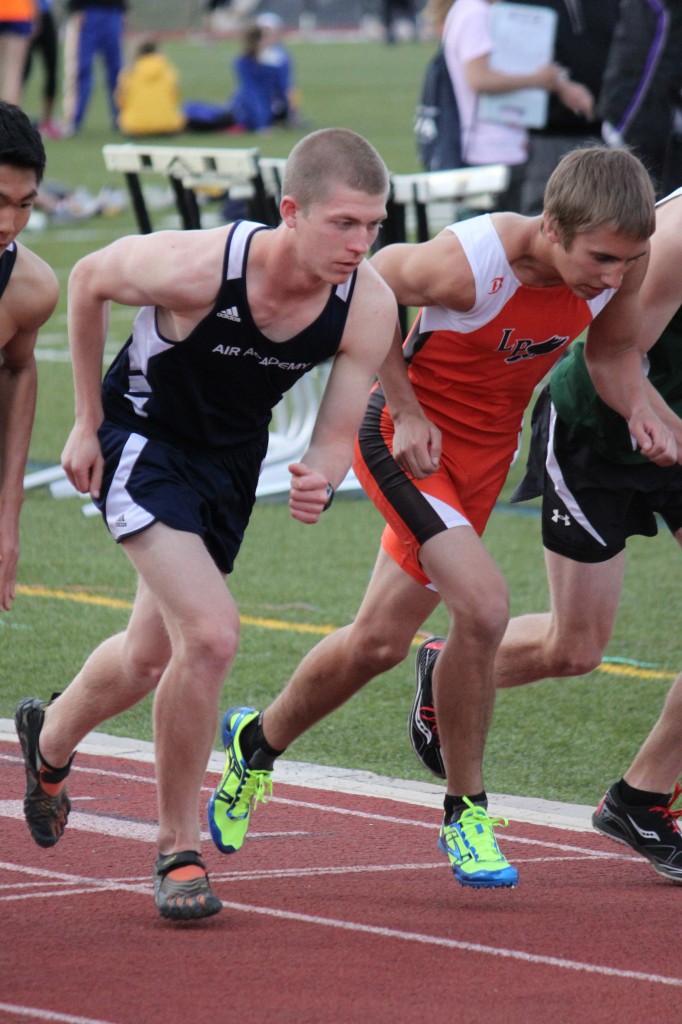 Sport: Cross Country and Track
High School: Air Academy, Class of 2015
Most athletes are ingrained with a certain level of motivation.  They are motivated to succeed, they are motivated to win, they are motivated not to lose, they are motivated to outperform their competition.  No matter what it is that drives them forward, that motivation has to come from within.  Only so much can come from another person.  All that a parent, teammate, or coach can do is provide incentives in order to stimulate that desire from inside.  However, at the end of the day, if an athlete cannot motivate himself, he will eventually struggle to succeed.
Colin Adams does not need any help being motivated.  At Max Performance we tell our athletes that if they want to improve they need to "get comfortable being uncomfortable."  Colin left his comfort zone behind when he began training with Max Performance at 13-years-old.  At the time, Colin played a variety of sports – football, wrestling, basketball, and baseball.  A sport for every season.  It was when he entered high school, though, that Colin really found his passion on the cross country trails of Colorado.  You could say he was born to run.
Since taking on running full time, Colin has seen significant improvement in his race times.  A big reason for his improvement has been his ability to stay healthy.  Runners are notorious for having bumps, bruises, and nagging injuries that hold them back.  But, Colin has used his training at Max to stay healthy which has allowed him to focus on improving his running technique and race times.  Here's a quick look at some of Colin's times and improvements since his freshman season:
5K – 18:03; 93 seconds faster than his freshman season
1600 m – 5:17; 10 seconds faster than his freshman season
3200 m – 11:26; 22 seconds faster than his freshman season
800 m – 2:17; 10 seconds faster than freshman season
2013 Triple Crown Series

- As of August 15, Colin is 2nd in his age group for the Triple Crown Race Series (before the Accent/Marathon)
As he begins his junior year at Air Academy, Colin is looking to improve even more on his times.  His love of running and his ability to self-motivate will be his driving force as he leads his teammates toward a successful cross country season.
What is your favorite motivational quote?
"Every morning in Africa, a gazelle wakes up.  It knows it must move faster than the lion or it will not survive.  Every morning a lion wakes up and it knows it must move faster than the slowest gazelle or it will starve.  It doesn't matter if you are the lion or gazelle, when the sun comes up, you better be moving." -Maurice Green
How does that quote motivate you during your training or when you are playing your sport?
Somewhere out there, someone is training.  They are moving and pushing their mind and body to the limit to try and get a little bit better.  They are training, they are working, they are moving.  Those who move will survive.  Those who survive will flourish.  In my sport, those who don't move will lose their talent and hard work and it will go to waste.
How has training with Max Performance helped you as an athlete?
Max Performance has helped me stay injury free for the past four years that I have been going there.  I've never had one injury in that time.  Max Performance also helps strengthen the smaller muscle groups that most people neglect to exercise, which I attribute to a large part of my success.
Who is your greatest inspiration and why?
Emil Zatopek because not only is he one of the greatest distance runner in history, but also he was not afraid to stand up for what he believed in and was known as on of the nicest people anyone had ever met.  His life can be summarized by his own quote: "Great is the victory, but friendship is all the greater."
What are some of your long-term goals?
I'd like to start running longer and longer races.  Eventually, I would like to run ultra-marathons with the big three for me being the Leadville 100, the Hardrock 100, and the Spartathlon.
What's the toughest thing you had to overcome in order to reach your goals?
Time management.  Training takes dedication and time, but it should not run your life.  Friends, family, and fun should also be an important aspect of your life, and trying to balance all of that with the limited time is probably the hardest thing to overcome in order to reach my goals.