Athlete Spotlight: Caren Nelson
Sport: Soccer
College: University of Oklahoma
High School: Air Academy, Class of 2013
Coaches dream of coaching athletes that are passionate about their sport, work hard to better themselves, and have fun doing it.  Max Performance is lucky enough to train such an athlete in Caren Nelson.  Always on time and with a smile on her face, Caren wasted no time in fitting right in to the Max Performance family.  She brings her 'A' game to each and every training session, and does not settle for less than her best.  Her attitude and enthusiasm is exactly what we hope to get out of every athlete that walks through our doors.
Caren enjoyed an outstanding career at Air Academy where she dominated on the soccer field for 4 years.  Caren earned All-State 1st Team honors in 2012 after garnering 2nd Team recognition in 2011 and 2010.  She also captained Air Academy to a 4A state title in 2012.  While showcasing her talent with her high school and club teams, Caren turned the heads of college recruiters and eventually secured a scholarship offer from the University of Oklahoma.  Caren recently left for Norman, Oklahoma where she will begin her freshman campaign in 2013.
What is your favorite motivational quote?
"Failure happens all the time. It happens every day in practice. What makes you better is how you react to it."
-Mia Hamm
How does that quote motivate you during your training or when you are playing your sport?
I always try to remember that no one is perfect. When I am struggling in practice, have had a bad game, or even have had a bad week, I remember that your failures shape who you become. You can choose to learn from your failures or continue to struggle. I remember everything happens for a reason and my failures and difficulties are what is going to help me in the future. It lets me grow as both an individual and a player. Failures happen, but you have to react positively in order to continue to be successful.
How has Max Performance helped prepare you for college sports?
Max pushed me beyond my limits every day in order to help me physically and mentally. They helped me become stronger and more fit then I had ever been. Even when I was hurt they continued to help me get back to where I was. College sports are at a new level, but Max made the transition easy by training with intensity and continuing to push my boundaries.
Who is your greatest inspiration and why?
My greatest inspiration is my parents. They have continued to support me in athletics and in my life. They are true role models and have never left my side. I could not be more thankful to have them in my life as they have truly developed me into the individual I am today. They make me want to strive to be the best I can be and I would never want to disappoint them.
A young athlete wants to follow in your footsteps, what advice can you give him/her?
I would say to practice every day. If you want to be successful it takes dedication which means doing something every single day. I would also say to never give up. There are going to be obstacles in life but its how you adapt and learn from them that will truly make you successful.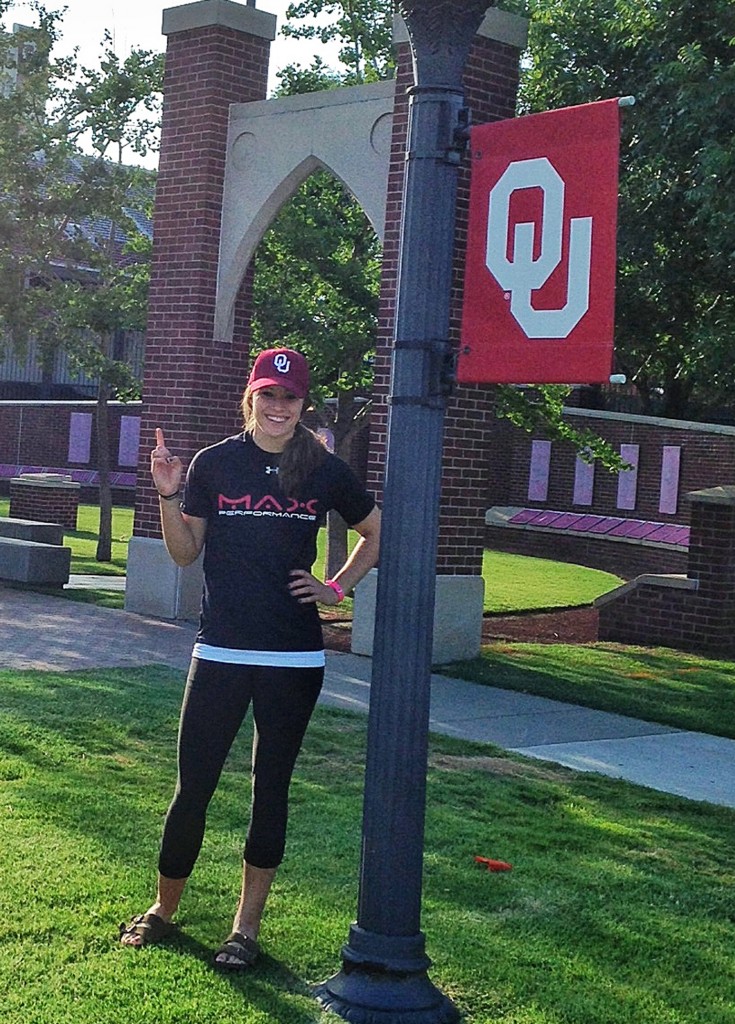 Every athlete has that moment that they feel defines them as an athlete. What do you believe is your defining moment?
I feel as if I am in my defining moment right now in my life. I am recovering from an ankle injury and surgery and as much as it sucks to sit out it truly shows me how much I love playing soccer and how blessed I am to be able to play Division 1. It has showed me hard work pays off but you have to continue to push yourself to be that much better. I better understand that my passion is soccer and I play for the true reason, for the love of the game.