Athlete Spotlight:

Alex Sjobakken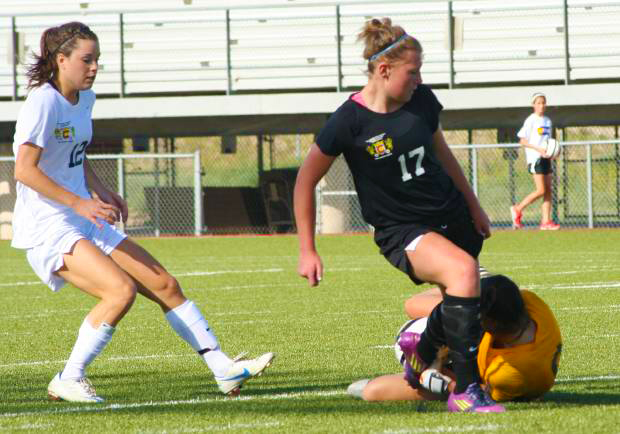 Sport: Soccer
High School:  St. Mary's, Class of 2014
Club Team: Pride United '96
Webster's Dictionary defines determination as a "firm or fixed intention to achieve a desired end."  Synonyms include perseverance, persistence, doggedness, stubbornness, tenaciousness, and Alex Sjobakken.  That's right.  Alex Sjobakken.
Alex, a soccer player for St. Mary's High School, is about to enter her senior year where she will lead a very talented soccer team.  However, getting to this point was not as easy as it seems.  Unfortunately, Alex suffered an injury that many female soccer players dread - a torn ACL.  But, this is where Alex reflects the word determination so perfectly.
After having surgery to repair her ACL in October of 2011, Alex made it her goal to be back playing by the 2012 spring season.  She worked harder than ever with physical therapy and made it back on the field midway through the season.  Upon completing her sophomore year, Alex knew she still was not where she wanted to be.  That's when she made her commitment to Max Performance and stepped her game up to a whole other level.
Alex started her post-ACL training program in the summer of 2012 and has not looked back since.  Every day she got a little stronger.  Every week, a little faster.  Every month, a little more determined!  By the time her junior season rolled around in 2013, Alex was just itching to get on the field and dominate her opponents.  And dominate she did.  Alex's junior season was a breakout year where she recorded new career highs for goals and assists.  She was also honored with awards such as 2nd Team All State, 1st Team All-League, All-Area Honorable Mention, and All-Colorado 3A Honorable Mention.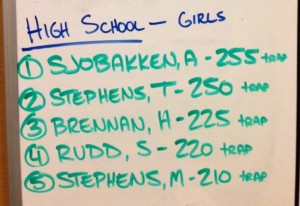 But that's now in the past, and Alex is still showing her passion and enthusiasm for getting even better.  Training with Max Performance this summer, Alex has hit new highs in her training program, culminating with the top spot on our girls' deadlift leader board at 255 lbs.  Remember boys, somewhere a girl is warming up with your max!  There is no doubt Alex is one of our strongest athletes.  And there is no doubt the positive effects passion, enthusiasm, and determination can have on an athlete who sets her mind on being the best.
Can you describe your injury and how it set you back?
In August of 2011, in a collision with a goalie during a club soccer game, I tore my ACL in my left leg.  The injury resulted in reconstructive surgery in October 2011 and I was not able to compete in my club fall 2011 season.  I rehabbed during the winter and was back partially playing in March 2012 with a knee brace.
How has Max Performance helped you make the transition from physical therapy back to playing your sport?
I trained with Max Performance all summer of 2012 where I gained back all leg muscle I lost during the surgery plus more.  The summer training helped me to have enough muscle strength and mental toughness to start playing without my knee brace during my fall 2012 club season.  I continued my training with Max from November 2012 all throughout my high school season of 2013 which has helped me have one of my most successful seasons as I earned a 3A All-Conference recognition, 2nd Team All-State, Gazette All-Area Honorable Mention, and my career high of goals and assists in a season.
What do you believe is the most important aspect of your training and why?
The most important aspect of my training is being mentally there to train every day, whether it's on the field or in the gym.  Having the attitude of wanting to work to get stronger and training hard every day is the only way you can get better.
Who has been the biggest influence in your life, either an athlete or non-athlete?
My parents have been the biggest influence on my life.  They were both standout athletes in high school, so they know the life of the athlete and push me to work my hardest and do my best in everything I do, on and off the field.  They have always supported me in all I do and have been there to get me the best therapy and training to help me for soccer and I wouldn't be where I am without their influence on my life.
What are your aspirations and goals as you prepare for next season?
Next season I hope to have my best season yet.  I hope to improve on my stats for goals and assists, teamwork, and my leadership.  I hope to have a standout season in hopes of getting a college scholarship to play soccer.
What is your favorite motivational quote and how does it help motivate you during your training or when you are playing your sport?
My favorite motivational quote is one Jenna showed me this summer.  It is:
"Scar tissue is stronger than regular tissue.  Realize the strength, move on." -Henry Rollins
My injury was a huge setback for me, but now looking back, it has helped me become a more determined and hardworking athlete.  This quote helps me realize I am now stronger, faster, and better than I have ever been and I cannot let any injury, no matter big or small, set me back.